Flights, Arrivals & Departures at London Stansted Airport
Origin
Airline
Flight no.
Scheduled
Est./Actual
Status
Venice (VCE)
Ryanair
RK799
00:00
Scheduled
Shannon (SNN)
Ryanair
FR311
00:10
Delayed
Madrid (MAD)
Ryanair
RK5995
00:10
Delayed
Manises (VLC)
Ryanair
FR1735
00:10
Scheduled
Paphos (PFO)
Ryanair
FR3132
00:20
Scheduled
Orebro (ORB)
Ryanair
FR7594
00:40
Delayed
Santiago De Compostela (SCQ)
Ryanair
FR8379
00:45
Scheduled
Puerto del Rosario (FUE)
Ryanair
FR610
00:50
Delayed
Palma Mallorca (PMI)
Ryanair
FR1203
00:50
Scheduled
Dalaman (DLM)
Jet2
LS1612
00:55
Scheduled
Rhodes (RHO)
Jet2
LS1450
01:20
Delayed
Tenerife (TFS)
Jet2
LS1494
01:40
Scheduled
Kos (KGS)
Jet2
LS1482
01:45
Scheduled
Antalya (AYT)
Jet2
LS1466
02:00
Delayed
Larnaca (LCA)
Jet2
LS1496
02:10
Delayed
Heraklion (HER)
Jet2
LS1470
02:40
Scheduled
Liege (LGG)
ASL Airlines
3V4834
03:54
Scheduled
Guangzhou (CAN)
China Southern Airlines
CZ491
06:30
Scheduled
Guangzhou (CAN)
China Southern Airlines
CZ483
06:30
Scheduled
Milan (MXP)
Ryanair
FR2756
06:45
Scheduled
Tbilisi (TBS)
Georgian Airlines
GH2981
07:01
Scheduled
Berlin (BER)
Ryanair
FR144
07:05
Scheduled
Sofia (SOF)
Ryanair
FR1731
07:10
Scheduled
Venice (VCE)
Ryanair
FR793
07:10
Scheduled
Belfast (BFS)
easyJet
U235
07:15
Scheduled
Poznan (POZ)
Ryanair
FR1751
07:15
Scheduled
Prague (PRG)
Ryanair
FR1014
07:25
Scheduled
Cork (ORK)
Ryanair
FR902
07:30
Scheduled
Katowice (KTW)
Ryanair
FR2472
07:30
Scheduled
Bordeaux (BOD)
Ryanair
FR1783
07:35
Scheduled
Guangzhou (CAN)
China Southern Airlines
CZ2531
07:35
Scheduled
Dublin (DUB)
Ryanair
FR202
07:40
Scheduled
Edinburgh (EDI)
easyJet
U2307
07:40
Scheduled
Hahn (HHN)
Ryanair
FR1748
07:45
Scheduled
Bergamo (BGY)
Ryanair
FR2697
07:50
Scheduled
Belfast (BFS)
Ryanair
RK128
07:50
Scheduled
Edinburgh (EDI)
Ryanair
RK597
07:50
Scheduled
Rome (CIA)
Ryanair
FR2456
07:55
Scheduled
Zagreb (ZAG)
Lauda Europe
FR2189
08:00
Scheduled
Tirana (TIA)
Air Albania
ZB6001
08:00
Scheduled
Cologne (CGN)
Ryanair
FR2353
08:00
Scheduled
Wasaw Modlin (WMI)
Buzz
FR1022
08:00
Scheduled
Budapest (BUD)
Ryanair
FR1659
08:05
Scheduled
Pisa (PSA)
Ryanair
FR585
08:20
Scheduled
Glasgow (GLA)
easyJet
U2407
08:25
Scheduled
Madrid (MAD)
Ryanair
FR2629
08:30
Scheduled
Alicante (ALC)
Ryanair
FR2587
08:45
Scheduled
Faro (FAO)
Ryanair
FR9143
08:50
Scheduled
Barcelona (BCN)
Ryanair
FR8215
09:15
Scheduled
Dortmund (DTM)
Ryanair
FR1789
09:20
Scheduled
Wroclaw (WRO)
Ryanair
FR8406
09:20
Scheduled
Dublin (DUB)
Ryanair
FR204
09:25
Scheduled
Hamburg (HAM)
Ryanair
FR1517
09:35
Scheduled
Bremen (BRE)
Ryanair
FR3676
09:40
Scheduled
Karlsruhe Baden Baden (FKB)
Ryanair
FR9773
09:55
Scheduled
Biarritz (BIQ)
Lauda Europe
FR371
10:25
Scheduled
Knock (NOC)
Ryanair
FR804
10:25
Scheduled
Marseille (MRS)
Ryanair
FR6542
10:30
Scheduled
Antalya (AYT)
Pegasus
PC1821
10:30
Scheduled
Istanbul (SAW)
AnadoluJet
TK7798
10:40
Scheduled
Dalaman (DLM)
Pegasus
PC1757
10:50
Scheduled
Perpignan (PGF)
Ryanair
FR935
10:50
Scheduled
Istanbul (SAW)
Pegasus
PC1169
10:55
Scheduled
Copenhagen (CPH)
Ryanair
FR7381
10:55
Scheduled
Shanghai (PVG)
China Southern Cargo
CZ481
11:00
Scheduled
Billund (BLL)
Ryanair
FR5165
11:05
Scheduled
Krakow (KRK)
Ryanair
FR2363
11:05
Scheduled
Belfast (BFS)
easyJet
U237
11:10
Scheduled
Eindhoven (EIN)
Ryanair
FR2538
11:10
Scheduled
Shanghai (PVG)
China Cargo Airlines
CK213
11:10
Delayed
Bologna (BLQ)
Ryanair
FR195
11:15
Scheduled
Amsterdam (AMS)
easyJet
U27839
11:15
Scheduled
Nürnberg (NUE)
Ryanair
FR7633
11:20
Scheduled
Nimes (FNI)
Ryanair
RK8817
11:20
Scheduled
Gerona (GRO)
Ryanair
FR9797
11:20
Scheduled
Dublin (DUB)
Ryanair
FR211
11:25
Scheduled
Bergamo (BGY)
Ryanair
FR2739
11:25
Scheduled
Barcelona (BCN)
Ryanair
RK8231
11:30
Scheduled
Gothenburg (GOT)
Ryanair
FR967
11:30
Scheduled
Edinburgh (EDI)
easyJet
U2309
11:45
Scheduled
Palma Mallorca (PMI)
Jet2
LS1530
11:50
Scheduled
Vigo (VGO)
Ryanair
FR6943
11:50
Scheduled
Pisa (PSA)
Ryanair
FR587
11:55
Scheduled
Palma Mallorca (PMI)
Titan Airways
BY5213
12:05
Scheduled
Vienna (VIE)
Lauda Europe
FR729
12:05
Scheduled
Glasgow (GLA)
easyJet
U2411
12:10
Scheduled
Budapest (BUD)
Ryanair
FR2515
12:15
Scheduled
Porto (OPO)
Ryanair
FR1262
12:15
Scheduled
Izmir (ADB)
Pegasus
PC1531
12:20
Scheduled
Gdansk (GDN)
Ryanair
FR544
12:25
Scheduled
Napoli (NAP)
Ryanair
FR1475
12:40
Scheduled
Rome (CIA)
Ryanair
FR2509
12:40
Scheduled
Ibiza (IBZ)
Jet2
LS1474
12:40
Scheduled
Lamezia-terme (SUF)
Ryanair
FR2729
12:45
Scheduled
Brindisi (BDS)
Ryanair
RK2476
12:50
Scheduled
Faro (FAO)
Jet2
LS1440
12:50
Scheduled
Vantaa (HEL)
Ryanair
FR2345
12:50
Scheduled
Beziers (BZR)
Ryanair
FR877
12:50
Scheduled
Milan (MXP)
Ryanair
FR8718
12:55
Scheduled
Karlsruhe Baden Baden (FKB)
Ryanair
FR9799
13:00
Scheduled
Wroclaw (WRO)
Ryanair
FR8408
13:00
Scheduled
Malaga (AGP)
Ryanair
FR8163
13:00
Scheduled
Cagliari (CAG)
Ryanair
FR2688
13:05
Scheduled
Budapest (BUD)
Ryanair
FR2517
13:20
Scheduled
Luxembourg (LUX)
Ryanair
FR2861
13:20
Scheduled
Dubai (DXB)
Emirates
EK65
13:25
Scheduled
Leipzig-halle (LEJ)
Ryanair
FR9792
13:25
Scheduled
Istanbul (SAW)
Pegasus Airlines
PC1161
13:30
Scheduled
Bucharest (OTP)
Ryanair
FR1006
13:30
Scheduled
Toulouse (TLS)
Ryanair
FR282
13:30
Scheduled
Trieste (TRS)
Ryanair
FR169
13:30
Scheduled
Lisbon (LIS)
Ryanair
FR1081
13:55
Scheduled
Reus (REU)
Ryanair
FR3843
13:55
Scheduled
Bari (BRI)
Ryanair
FR1906
14:15
Scheduled
Berlin (BER)
Ryanair
FR146
14:20
Scheduled
Alicante (ALC)
Jet2
LS1412
14:20
Scheduled
Bratislava (BTS)
Ryanair
FR2315
14:35
Scheduled
Maastricht (MST)
Ryanair
FR531
14:35
Scheduled
Istanbul (SAW)
Turkish Airlines
TK7820
14:40
Scheduled
Ouarzazate (OZZ)
Ryanair
RK8529
14:40
Scheduled
Riga (RIX)
Ryanair
FR1136
14:45
Scheduled
Cork (ORK)
Ryanair
FR906
15:00
Scheduled
Heraklion (HER)
Jet2
LS1578
15:00
Scheduled
Hahn (HHN)
Ryanair
FR6198
15:05
Scheduled
Chania (CHQ)
Jet2
LS1430
15:10
Scheduled
Aarhus (AAR)
Ryanair
FR713
15:20
Scheduled
Alicante (ALC)
Ryanair
FR6646
15:20
Scheduled
Porto (OPO)
Ryanair
FR1276
15:25
Scheduled
Thessaloniki (SKG)
Ryanair
FR2568
15:30
Scheduled
Plovdiv (PDV)
Ryanair
FR1837
15:30
Scheduled
Memmingen (FMM)
Ryanair
FR2405
15:30
Scheduled
Sevilla (SVQ)
Ryanair
FR8364
15:35
Scheduled
Lanzarote (ACE)
Jet2
LS1402
15:35
Scheduled
Murcia (RMU)
Ryanair
FR8025
15:40
Scheduled
Chania (CHQ)
Ryanair
FR7609
15:45
Scheduled
Vilnius (VNO)
Ryanair
FR542
15:45
Scheduled
Dublin (DUB)
Ryanair
FR255
15:55
Scheduled
Palma Mallorca (PMI)
Ryanair
FR26
15:55
Scheduled
Pescara (PSR)
Ryanair
FR983
15:55
Scheduled
Kos (KGS)
Ryanair
FR6290
16:00
Scheduled
Torp (TRF)
Ryanair UK
RK33
16:00
Scheduled
Napoli (NAP)
Ryanair
FR1833
16:05
Scheduled
Pisa (PSA)
Ryanair
FR589
16:05
Scheduled
Antalya (AYT)
Turkish Airlines
TK4320
16:10
Scheduled
Lodz (LCJ)
Ryanair
FR2469
16:10
Scheduled
Lanzarote (ACE)
Ryanair
FR251
16:20
Scheduled
Shannon (SNN)
Ryanair
FR92
16:25
Scheduled
Prague (PRG)
Ryanair
FR1375
16:25
Scheduled
Faro (FAO)
Ryanair
FR9283
16:30
Scheduled
Las Palmas (LPA)
Ryanair
FR2843
16:35
Scheduled
Marrakech (RAK)
Ryanair UK
RK3557
16:35
Scheduled
Tenerife (TFS)
Ryanair
FR579
16:40
Scheduled
Eindhoven (EIN)
Ryanair
FR5682
16:45
Scheduled
Kosice (KSC)
Ryanair
FR2367
16:45
Scheduled
Santiago De Compostela (SCQ)
Ryanair
FR8381
16:50
Scheduled
Nantes (NTE)
Ryanair
FR8504
16:50
Scheduled
Brno (BRQ)
Ryanair
FR2478
17:00
Scheduled
Perugia (PEG)
Ryanair
FR2496
17:00
Scheduled
Copenhagen (CPH)
Ryanair
FR2619
17:00
Scheduled
Madrid (MAD)
Ryanair
FR5993
17:05
Scheduled
Pisa (PSA)
Ryanair
FR2685
17:05
Scheduled
Jerez De La Frontera (XRY)
Ryanair
FR8397
17:10
Scheduled
Dublin (DUB)
Ryanair
FR272
17:15
Scheduled
Billund (BLL)
Ryanair
FR5179
17:25
Scheduled
Palermo (PMO)
Ryanair
FR3919
17:35
Scheduled
Sevilla (SVQ)
Ryanair
FR8362
17:40
Scheduled
Bergerac (EGC)
Ryanair
FR2667
17:45
Scheduled
Rome (CIA)
Ryanair
FR2673
18:00
Scheduled
Cork (ORK)
Air Hamburg
AHO236
18:05
Scheduled
Zakinthos (ZTH)
Ryanair
FR7461
18:05
Scheduled
Venice (VCE)
Ryanair
FR795
18:05
Scheduled
Krakow (KRK)
Ryanair
FR2433
18:10
Scheduled
Bergamo (BGY)
Ryanair
FR3673
18:15
Scheduled
Faro (FAO)
Ryanair
FR5784
18:15
Scheduled
Chisinau (KIV)
FlyOne
5F547
18:20
Scheduled
Vienna (VIE)
Ryanair
FR731
18:20
Scheduled
NIce (NCE)
Ryanair
FR1875
18:25
Scheduled
Verona (VRN)
Ryanair
FR2339
18:35
Scheduled
Lourdes Tarbes (LDE)
Ryanair
FR523
18:40
Scheduled
Dubai (DXB)
Emirates
EK67
18:45
Scheduled
Poitiers (PIS)
Ryanair
FR2480
18:50
Scheduled
Berlin (BER)
Ryanair
FR2789
19:00
Scheduled
Salzburg (SZG)
Ryanair
FR305
19:00
Scheduled
Amsterdam (AMS)
easyJet
U27845
19:00
Scheduled
Stockholm (ARN)
Ryanair
FR4692
19:00
Scheduled
Limoges (LIG)
Ryanair
FR8777
19:00
Scheduled
Bucharest (OTP)
Ryanair
FR1008
19:05
Scheduled
Bremen (BRE)
Ryanair
FR3633
19:10
Scheduled
Funchal (FNC)
Ryanair
FR388
19:10
Scheduled
Dublin (DUB)
Ryanair
FR288
19:25
Scheduled
Alicante (ALC)
Ryanair
FR8287
19:30
Scheduled
Berlin (BER)
Ryanair
FR177
19:40
Scheduled
Newquay (NQY)
Ryanair UK
RK9227
19:40
Scheduled
Tenerife (TFS)
Ryanair
FR2424
19:40
Scheduled
Riga (RIX)
Ryanair
FR2643
19:40
Scheduled
Oslo (OSL)
Ryanair UK
RK1393
19:45
Scheduled
Gudja (MLA)
Ryanair
FR4207
19:50
Scheduled
Tenerife (TFS)
Jet2
LS1664
19:50
Scheduled
Gdansk (GDN)
Ryanair
FR2373
20:05
Scheduled
Athens (ATH)
Ryanair
FR14
20:05
Scheduled
Palma Mallorca (PMI)
Ryanair
FR28
20:05
Scheduled
Wasaw Modlin (WMI)
Ryanair
FR2459
20:05
Scheduled
Istanbul (SAW)
Pegasus Airlines
PC1177 expand_more(1)
20:10
Scheduled
Istanbul (SAW)
Flynas
XY5177
20:10
Scheduled
Las Palmas (LPA)
Jet2
LS1508
20:20
Scheduled
Belfast (BFS)
Ryanair UK
RK130
20:30
Scheduled
Edinburgh (EDI)
easyJet
U2313
20:30
Scheduled
Gothenburg (GOT)
Ryanair
FR965
20:30
Scheduled
Glasgow (GLA)
easyJet
U2413
20:40
Scheduled
Santander (SDR)
Ryanair
FR2613
20:45
Scheduled
Barcelona (BCN)
Ryanair
FR9015
20:45
Scheduled
Antalya (AYT)
Jet2
LS1604
20:45
Scheduled
Milan (MXP)
Ryanair
FR8737
21:00
Scheduled
Ibiza (IBZ)
Ryanair
FR9252
21:05
Scheduled
Lisbon (LIS)
Ryanair
FR1883
21:10
Scheduled
Prague (PRG)
Ryanair
FR2014
21:10
Scheduled
Belfast (BFS)
easyJet
U243
21:15
Scheduled
Eindhoven (EIN)
Ryanair
FR8283
21:20
Scheduled
Venice (VCE)
Ryanair
FR799
21:20
Scheduled
Oviedo Aviles (OVD)
Ryanair
FR2490
21:35
Scheduled
Paphos (PFO)
Jet2
LS1526
21:35
Scheduled
Agadir (AGA)
Ryanair UK
RK3034
21:40
Scheduled
Gerona (GRO)
Ryanair
FR9803
21:45
Scheduled
Shannon (SNN)
Ryanair
FR108
21:50
Scheduled
Budapest (BUD)
Ryanair
FR3718
21:50
Scheduled
Krakow (KRK)
Ryanair
FR2435
21:50
Scheduled
Rome (CIA)
Ryanair
FR3003
22:10
Scheduled
Dublin (DUB)
Ryanair
FR292
22:20
Scheduled
Hamburg (HAM)
Ryanair
FR1519
22:20
Scheduled
Rhodes (RHO)
Ryanair
FR8585
22:20
Scheduled
Thessaloniki (SKG)
Jet2
LS1652
22:30
Scheduled
Tallinn (TLL)
Ryanair
FR2224
22:30
Scheduled
Madrid (MAD)
Ryanair
FR5995
22:30
Scheduled
Milas (BJV)
Jet2
LS1416
22:35
Scheduled
Cologne (CGN)
Ryanair
FR2813
22:35
Scheduled
Lanzarote (ACE)
Ryanair
FR8285
22:40
Scheduled
Dublin (DUB)
Ryanair
FR290
22:55
Scheduled
Edinburgh (EDI)
Ryanair UK
RK1274
22:55
Scheduled
Rzeszow (RZE)
Ryanair
FR2135
23:00
Scheduled
Copenhagen (CPH)
Ryanair
FR7383
23:00
Scheduled
Dalaman (DLM)
Titan Airways
BY447
23:05
Scheduled
Istanbul (SAW)
Pegasus Airlines
PC1173
23:05
Scheduled
Ancona (AOI)
Ryanair
FR125
23:10
Scheduled
Murcia (RMU)
Ryanair
FR8027
23:10
Scheduled
Manises (VLC)
Ryanair
FR642
23:10
Scheduled
Marrakech (RAK)
Ryanair UK
RK7869
23:15
Scheduled
Billund (BLL)
Ryanair
FR5173
23:25
Scheduled
Szczecin (SZZ)
Ryanair
FR2467
23:25
Scheduled
Rome (CIA)
Ryanair
FR3005
23:25
Scheduled
Bucharest (OTP)
Ryanair
FR3847
23:30
Scheduled
Porto (OPO)
Ryanair
FR7699
23:35
Scheduled
Malaga (AGP)
Ryanair
FR8165
23:35
Scheduled
Cork (ORK)
Ryanair
FR908
23:45
Scheduled
Toulouse (TLS)
Ryanair
FR296
23:45
Scheduled
Marseille (MRS)
Ryanair
FR6544
23:50
Scheduled
Genova (GOA)
Ryanair
FR973
23:50
Scheduled
Turin (TRN)
Ryanair
FR465
23:55
Scheduled
Sofia (SOF)
Ryanair
FR2691
23:59
Scheduled
Destination
Airline
Flight no.
Scheduled
Est./Actual
Status
Istanbul (SAW)
Pegasus
PC1174 expand_more(1)
00:20
Scheduled
Istanbul (SAW)
Flynas
XY5174
00:20
Scheduled
Palma de Mallorca (PMI)
Jet2
LS1529
05:55
Scheduled
Heraklion (HER)
Jet2
LS1577
05:55
Scheduled
Ouarzazate (OZZ)
Ryanair
RK8528
05:55
Scheduled
Chania (CHQ)
Jet2
LS1429
05:55
Scheduled
Hamburg (HAM)
Ryanair
FR1518
05:55
Scheduled
Krakow (KRK)
Ryanair
FR2362
06:00
Scheduled
Palma de Mallorca (PMI)
Titan Airways
BY5212
06:00
Scheduled
Helsinki (HEL)
Ryanair
FR2344
06:05
Scheduled
Marseille (MRS)
Ryanair
FR6541
06:05
Scheduled
Dortmund (DTM)
Ryanair
FR1788
06:10
Scheduled
Biarritz (BIQ)
Lauda Europe
FR372
06:10
Scheduled
Lanzarote (ACE)
Jet2
LS1401
06:15
Scheduled
Lamezia Terme (SUF)
Ryanair
FR2728
06:15
Scheduled
Barcelona (BCN)
Ryanair
RK8214
06:20
Scheduled
Faro (FAO)
Jet2
LS1439
06:20
Scheduled
Tenerife (TFS)
TUI
BY5274
06:20
Scheduled
Dublin (DUB)
Ryanair
FR205
06:20
Scheduled
Perpignan (PGF)
Ryanair
FR934
06:25
Scheduled
Bologna (BLQ)
Ryanair
FR194
06:30
Scheduled
Bremen (BRE)
Ryanair
FR3675
06:30
Scheduled
Girona (GRO)
Ryanair
FR9798
06:30
Scheduled
Ibiza (IBZ)
Jet2
LS1473
06:30
Scheduled
Brindisi (BDS)
Ryanair
RK2475
06:35
Scheduled
Naples (NAP)
Ryanair
FR1474
06:35
Scheduled
Malaga (AGP)
Ryanair
FR8162
06:35
Scheduled
Karlsruhe/Baden-Baden (FKB)
Ryanair
FR9772
06:35
Scheduled
Bucharest (OTP)
Ryanair
FR1005
06:40
Scheduled
Porto (OPO)
Ryanair
FR1261
06:45
Scheduled
Lanzarote (ACE)
Ryanair
FR250
06:45
Scheduled
Copenhagen (CPH)
Ryanair
FR7382
06:50
Scheduled
Budapest (BUD)
Ryanair
FR1658
06:50
Scheduled
Vigo (VGO)
Ryanair
FR6942
06:55
Scheduled
Pisa (PSA)
Ryanair
FR584
06:55
Scheduled
Chania (CHQ)
Ryanair
FR7608
07:00
Scheduled
Nimes (FNI)
Ryanair
RK8816
07:00
Scheduled
Milan (BGY)
Ryanair
FR2696
07:00
Scheduled
Knock (NOC)
Ryanair
FR805
07:05
Scheduled
Cagliari (CAG)
Ryanair
FR2687
07:05
Scheduled
Rome (CIA)
Ryanair
FR2455
07:10
Scheduled
Vienna (VIE)
Lauda Europe
FR730
07:10
Scheduled
Gothenburg (GOT)
Ryanair
FR966
07:15
Scheduled
Gran Canaria (LPA)
Ryanair
FR2842
07:15
Scheduled
Milan (MXP)
Ryanair
FR2757
07:15
Scheduled
Tenerife (TFS)
Ryanair
FR578
07:20
Scheduled
Billund (BLL)
Ryanair
FR5164
07:25
Scheduled
Berlin (BER)
Ryanair
FR145
07:30
Scheduled
Venice (VCE)
Ryanair
FR792
07:35
Scheduled
Kos (KGS)
Ryanair
FR6291
07:35
Scheduled
Sofia (SOF)
Ryanair
FR1730
07:35
Scheduled
Poznan (POZ)
Ryanair
FR1750
07:40
Scheduled
Belfast (BFS)
easyJet
U236
07:45
Scheduled
Prague (PRG)
Ryanair
FR1013
07:50
Scheduled
Katowice (KTW)
Ryanair
FR2471
07:55
Scheduled
Lisbon (LIS)
Ryanair
FR1080
07:55
Scheduled
Cork (ORK)
Ryanair
FR901
07:55
23:41
En-Route
Bordeaux (BOD)
Ryanair
FR1782
08:00
Scheduled
Dublin (DUB)
Ryanair
FR203
08:05
Scheduled
Edinburgh (EDI)
easyJet
U2308
08:10
Scheduled
Alicante (ALC)
Jet2
LS1411
08:10
Scheduled
Frankfurt (HHN)
Ryanair
FR1749
08:10
Scheduled
Edinburgh (EDI)
Ryanair
RK596
08:15
Scheduled
Milan (BGY)
Ryanair
FR2738
08:15
Scheduled
Bari (BRI)
Lauda Europe
FR1905
08:15
Scheduled
Belfast (BFS)
Ryanair
RK129
08:15
Scheduled
Warsaw (WMI)
Buzz
FR2281
08:25
Scheduled
Cologne (CGN)
Ryanair
FR2352
08:25
Scheduled
Zagreb (ZAG)
Lauda Europe
FR2190
08:25
Scheduled
Plovdiv (PDV)
Ryanair
FR1836
08:30
Scheduled
Beziers (BZR)
Ryanair
FR876
08:30
Scheduled
Thessaloniki (SKG)
Ryanair
FR2567
08:30
Scheduled
Budapest (BUD)
Ryanair
FR2516
08:35
Scheduled
Rome (CIA)
Ryanair
FR2510
08:35
Scheduled
Eindhoven (EIN)
Ryanair
FR2537
08:35
Scheduled
Pisa (PSA)
Ryanair
FR586
08:45
Scheduled
Trieste (TRS)
Ryanair
FR168
08:50
Scheduled
Marrakesh (RAK)
Ryanair
RK3556
08:55
Scheduled
Glasgow (GLA)
easyJet
U2408
08:55
Scheduled
Madrid (MAD)
Ryanair
FR2628
08:55
Scheduled
Tirana (TIA)
Air Albania
ZB6002
09:00
Scheduled
Antalya (AYT)
Jet2
LS1465
09:00
Scheduled
Reus (REU)
Ryanair
FR3842
09:00
Scheduled
Liege (LGG)
Georgian Airlines
GH2982
09:00
Scheduled
Tenerife (TFS)
Jet2
LS1493
09:00
Scheduled
Alicante (ALC)
Ryanair
FR2586
09:10
Scheduled
Faro (FAO)
Ryanair
FR9142
09:15
Scheduled
Seville (SVQ)
Ryanair
FR8363
09:35
Scheduled
Guangzhou (CAN)
China Southern Airlines
CZ426
09:35
Scheduled
Barcelona (BCN)
Ryanair
FR8230
09:40
Scheduled
Murcia (RMU)
Ryanair
FR8026
09:45
Scheduled
Wroclaw (WRO)
Ryanair
FR8405
09:45
Scheduled
Leipzig (LEJ)
Ryanair
FR9791
09:50
Scheduled
Tenerife (TFS)
Jet2
LS1663
10:00
Scheduled
Luxembourg (LUX)
Ryanair
FR2860
10:05
Scheduled
Berlin (BER)
Ryanair
FR147
10:10
Scheduled
Palma de Mallorca (PMI)
Ryanair
FR27
10:20
Scheduled
Guangzhou (CAN)
China Southern Airlines
CZ2530
10:20
Scheduled
Gran Canaria (LPA)
Jet2
LS1507
10:30
Scheduled
Zakynthos (ZTH)
Ryanair
FR7460
10:40
Scheduled
Jerez (XRY)
Ryanair
FR8396
10:50
Scheduled
Antalya (AYT)
Jet2
LS1603
11:00
Scheduled
Pafos (PFO)
Jet2
LS1525
11:00
Scheduled
Lodz (LCJ)
Ryanair
FR2468
11:15
Scheduled
Kosice (KSC)
Ryanair
FR2366
11:20
Scheduled
Antalya (AYT)
Pegasus Airlines
PC1822
11:25
Scheduled
Aarhus (AAR)
Ryanair
FR712
11:30
Scheduled
Perugia (PEG)
Ryanair
FR2497
11:30
Scheduled
Madrid (MAD)
Ryanair
FR5994
11:35
Scheduled
Belfast (BFS)
easyJet
U238
11:40
Scheduled
Memmingen (FMM)
Ryanair
FR2404
11:40
Scheduled
Amsterdam (AMS)
easyJet
U27840
11:45
Scheduled
Dalaman (DLM)
Pegasus Airlines
PC1758
11:45
Scheduled
Cork (ORK)
Ryanair
FR905
11:45
Scheduled
Nuremberg (NUE)
Ryanair
FR7632
11:45
Scheduled
Oslo (TRF)
Ryanair UK
RK32
11:45
Scheduled
Dublin (DUB)
Ryanair
FR210
11:50
Scheduled
Maastricht (MST)
Ryanair
FR530
11:50
Scheduled
Istanbul (SAW)
AnadoluJet
TK7799
11:50
Scheduled
Istanbul (SAW)
Pegasus Airlines
PC1170 expand_more(1)
12:05
Scheduled
Istanbul (SAW)
Flynas
XY5170
12:05
Scheduled
Athens (ATH)
Ryanair
FR15
12:05
Scheduled
Edinburgh (EDI)
easyJet
U2310
12:15
Scheduled
Brno (BRQ)
Ryanair
FR2477
12:25
Scheduled
Glasgow (GLA)
easyJet
U2412
12:40
Scheduled
Dublin (DUB)
Ryanair
FR256
12:50
Scheduled
Gdansk (GDN)
Ryanair
FR545
12:50
Scheduled
Copenhagen (CPH)
Ryanair
FR2618
12:55
Scheduled
Shannon (SNN)
Ryanair
FR93
13:05
Scheduled
Krakow (KRK)
Ryanair
FR2432
13:05
Scheduled
Izmir (ADB)
Pegasus Airlines
PC1532
13:10
Scheduled
Milan (MXP)
Ryanair
FR8719
13:20
Scheduled
Wroclaw (WRO)
Ryanair
FR8407
13:25
Scheduled
Karlsruhe/Baden-Baden (FKB)
Ryanair
FR9800
13:25
Scheduled
Nice (NCE)
Ryanair
FR1874
13:30
Scheduled
Guangzhou (CAN)
China Southern Airlines
CZ466
13:30
Scheduled
Nantes (NTE)
Ryanair
FR8503
13:30
Scheduled
Bodrum (BJV)
Jet2
LS1415
13:35
Scheduled
Lanzarote (ACE)
Ryanair
FR8284
13:35
Scheduled
Agadir (AGA)
Ryanair UK
RK3033
13:40
Scheduled
Rhodes (RHO)
Ryanair
FR8584
13:40
Scheduled
Valencia (VLC)
Ryanair
FR1736
13:40
Scheduled
Budapest (BUD)
Ryanair
FR2518
13:45
Scheduled
Stockholm (ARN)
Ryanair
FR4693
13:45
Scheduled
Billund (BLL)
Ryanair
FR5178
13:50
Scheduled
Bergerac (EGC)
Ryanair
FR2668
13:55
Scheduled
Dalaman (DLM)
Titan Airways
BY446
13:55
Scheduled
Toulouse (TLS)
Ryanair
FR281
13:55
Scheduled
Verona (VRN)
Ryanair
FR2338
14:05
Scheduled
Eindhoven (EIN)
Ryanair
FR5681
14:10
Scheduled
Tarbes (LDE)
Ryanair
FR522
14:20
Scheduled
Dalaman (DLM)
Jet2
LS1611
14:20
Scheduled
Palma de Mallorca (PMI)
Ryanair
FR29
14:30
Scheduled
Salzburg (SZG)
Ryanair
FR304
14:35
Scheduled
Istanbul (SAW)
Pegasus Airlines
PC1162
14:40
Scheduled
Dubai (DXB)
Emirates
EK66
14:55
Scheduled
Bratislava (BTS)
Ryanair
FR2314
15:00
Scheduled
Dusseldorf (MGL)
ProAir Aviation
PAV203
15:00
Scheduled
Berlin (BER)
Ryanair
FR2788
15:05
Scheduled
Lisbon (LIS)
Ryanair
FR1882
15:10
Scheduled
Thessaloniki (SKG)
Jet2
LS1651
15:10
Scheduled
Riga (RIX)
Ryanair
FR1137
15:10
Scheduled
Oslo (OSL)
Ryanair UK
RK1392
15:15
Scheduled
Limoges (LIG)
Ryanair
FR8776
15:20
Scheduled
Ibiza (IBZ)
Ryanair
FR9251
15:25
Scheduled
Frankfurt (HHN)
Ryanair
FR6199
15:30
Scheduled
Poitiers (PIS)
Ryanair
FR2479
15:30
Scheduled
Marrakesh (RAK)
Ryanair UK
RK7870
15:35
Scheduled
Istanbul (SAW)
Turkish Airlines
TK7821
15:35
Scheduled
Alicante (ALC)
Ryanair
FR6647
15:45
Scheduled
Porto (OPO)
Ryanair
FR1275
15:50
Scheduled
Bremen (BRE)
Ryanair
FR3634
15:55
Scheduled
Vilnius (VNO)
Ryanair
FR543
16:10
Scheduled
Gothenburg (GOT)
Ryanair
FR964
16:10
Scheduled
Santander (SDR)
Ryanair
FR2612
16:15
Scheduled
Pescara (PSR)
Ryanair
FR982
16:20
Scheduled
Dublin (DUB)
Ryanair
FR287
16:20
Scheduled
Tallinn (TLL)
Ryanair
FR2225
16:20
Scheduled
Budapest (BUD)
Ryanair
FR3717
16:25
Scheduled
Naples (NAP)
Ryanair
FR1832
16:30
Scheduled
Venice (VCE)
Ryanair
FR794
16:30
Scheduled
Pisa (PSA)
Ryanair
FR588
16:30
Scheduled
Bucharest (OTP)
Ryanair
FR1007
16:40
Scheduled
Krakow (KRK)
Ryanair
FR2434
16:40
Scheduled
Rome (CIA)
Ryanair
FR2672
16:40
Scheduled
Girona (GRO)
Ryanair
FR9802
16:45
Scheduled
Pafos (PFO)
Ryanair
FR3131
16:50
Scheduled
Newquay (NQY)
Ryanair UK
RK9228
16:50
Scheduled
Dalaman (DLM)
Jet2
LS1503
16:50
Scheduled
Prague (PRG)
Ryanair
FR1374
16:50
Scheduled
Faro (FAO)
Ryanair
FR9282
16:55
Scheduled
Madrid (MAD)
Ryanair
FR5996
17:00
Scheduled
Malaga (AGP)
Ryanair
FR8164
17:10
Scheduled
Antalya (AYT)
Turkish Airlines
TK4321
17:10
Scheduled
Asturias (OVD)
Ryanair
FR2489
17:10
Scheduled
Murcia (RMU)
Ryanair
FR8028
17:15
Scheduled
Santiago (SCQ)
Ryanair
FR8380
17:15
Scheduled
Antalya (AYT)
TUI Airways
BY346
17:15
Scheduled
Sofia (SOF)
Ryanair
FR2690
17:15
Scheduled
Rzeszow (RZE)
Ryanair
FR2134
17:25
Scheduled
Rabat (RBA)
Ryanair UK
RK1364
17:25
Scheduled
Pisa (PSA)
Ryanair
FR2684
17:30
Scheduled
Valencia (VLC)
Ryanair
FR643
17:30
Scheduled
Dublin (DUB)
Ryanair
FR271
17:40
Scheduled
Rome (CIA)
Ryanair
FR3002
17:55
Scheduled
Palermo (PMO)
Ryanair
FR3918
18:00
Scheduled
Lisbon (LIS)
Ryanair
FR1884
18:05
Scheduled
Seville (SVQ)
Ryanair
FR8361
18:05
Scheduled
Ancona (AOI)
Ryanair
FR124
18:10
Scheduled
Malaga (AGP)
Ryanair
FR8168
18:15
Scheduled
Porto (OPO)
Ryanair
FR7700
18:20
Scheduled
Rome (CIA)
Ryanair
FR3004
18:25
Scheduled
Venice (VCE)
Ryanair
FR798
18:30
Scheduled
Milan (BGY)
Ryanair
FR3674
18:40
Scheduled
Eindhoven (EIN)
Ryanair
FR8282
18:40
Scheduled
Vienna (VIE)
Ryanair
FR732
18:45
Scheduled
Ibiza (IBZ)
Ryanair
FR9253
18:45
Scheduled
Hamburg (HAM)
Ryanair
FR1520
18:50
Scheduled
Faro (FAO)
Ryanair
FR5785
18:55
Scheduled
Copenhagen (CPH)
Ryanair
FR7384
18:55
Scheduled
Palma de Mallorca (PMI)
Ryanair
FR1202
18:55
Scheduled
Barcelona (BCN)
Ryanair
FR9014
19:00
Scheduled
Genoa (GOA)
Ryanair
FR972
19:05
Scheduled
Cologne (CGN)
Ryanair
FR2814
19:15
Scheduled
Stockholm (ARN)
Ryanair
FR4719
19:15
Scheduled
Chisinau (KIV)
FlyOne
5F548
19:20
Scheduled
Szczecin (SZZ)
Ryanair
FR2466
19:25
Scheduled
Marseille (MRS)
Ryanair
FR6543
19:25
Scheduled
Bucharest (OTP)
Ryanair
FR3846
19:30
Scheduled
Toulouse (TLS)
Ryanair
FR295
19:30
Scheduled
Amsterdam (AMS)
easyJet
U27846
19:30
Scheduled
Turin (TRN)
Ryanair
FR464
19:30
Scheduled
Bologna (BLQ)
Ryanair
FR1194
19:35
Scheduled
Funchal (FNC)
Ryanair
FR389
19:35
Scheduled
Billund (BLL)
Ryanair
FR5172
19:45
Scheduled
Dublin (DUB)
Ryanair
FR289
19:50
Scheduled
Alicante (ALC)
Ryanair
FR8286
19:55
Scheduled
Milan (BGY)
Ryanair UK
RK4189
20:05
Scheduled
Tenerife (TFS)
Ryanair
FR2425
20:05
Scheduled
Berlin (BER)
Ryanair
FR176
20:05
Scheduled
Riga (RIX)
Ryanair
FR2642
20:05
Scheduled
Edinburgh (EDI)
Ryanair UK
RK1273
20:10
Scheduled
Malta (MLA)
Ryanair
FR4208
20:15
Scheduled
Cork (ORK)
Ryanair
FR907
20:30
Scheduled
Gdansk (GDN)
Ryanair
FR2372
20:45
Scheduled
Warsaw (WMI)
Ryanair
FR2460
20:45
Scheduled
Chisinau (KIV)
FlyOne
5F548
20:50
Scheduled
Belfast (BFS)
Ryanair UK
RK131
20:55
Scheduled
Ankara (ESB)
Pegasus Airlines
PC1692
21:00
Scheduled
Edinburgh (EDI)
easyJet
U2314
21:00
Scheduled
Barcelona (BCN)
Ryanair
FR9044
21:10
Scheduled
Dubai (DXB)
Emirates
EK68
21:10
Scheduled
Glasgow (GLA)
easyJet
U2414
21:10
Scheduled
Milan (MXP)
Ryanair
FR8736
21:25
Scheduled
Prague (PRG)
Ryanair
FR2013
21:35
Scheduled
Belfast (BFS)
easyJet
U244
21:45
Scheduled
Shannon (SNN)
Ryanair
FR109
22:15
Scheduled
Dublin (DUB)
Ryanair
FR291
22:45
Scheduled
Flying To and From London Stansted Airport
This page provides information about the destinations that can be reached via London Stansted Airport.

Was your flight delayed or cancelled?
You may be eligible to receive up to 600 EUR compensation per person in your party..
Claim Now!
Beat the Queues
Don't stand sweating for 45 mins waiting for Security. Get a fast track and get through in 5 mins or less.
Book now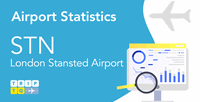 London Stansted Airport has continued its impressive recovery from the impact of the pandemic, with July 2023 witnessing a notable surge in passenger numbers. According to available records, the airport experienced a 1.61% increase in passengers compared to the pre-pandemic year of July 2019...