London Stansted Airport Arrivals (STN)
Not all flights may be showing. If not available use search above to find your flight by airline, airport or flight number.
Origin
Airline
Flight no.
Scheduled
Est./Actual
Status
Edinburgh (EDI)
easyJet
U2309
08:35
Scheduled
Tashkent (TAS)
Titan Airways
ZT288
08:35
Scheduled
Guangzhou (CAN)
China Southern Cargo
CSG2531
09:12
Scheduled
Shannon (SNN)
Lauda Europe
FR92
09:20
Scheduled
Hahn (HHN)
Ryanair
FR1748
09:30
Scheduled
Istanbul (SAW)
Pegasus
PC1161 expand_more(1)
09:30
Scheduled
Istanbul (SAW)
Flynas
XY5161
09:30
Scheduled
Dublin (DUB)
Ryanair
FR211
09:35
Scheduled
Luxembourg (LUX)
Ryanair
FR2861
09:35
Scheduled
Poznan (POZ)
Ryanair
FR1751
09:35
Scheduled
Paphos (PFO)
Ryanair
FR3132
09:40
Scheduled
Faro (FAO)
Ryanair
FR5784
09:45
Scheduled
Leipzig-halle (LEJ)
Ryanair
FR9792
09:45
Scheduled
Nantes (NTE)
Ryanair
FR8504
09:55
Scheduled
Bergamo (BGY)
Ryanair
FR3673
10:10
Delayed
Cologne (CGN)
Ryanair
FR2353
10:15
Scheduled
Limoges (LIG)
Ryanair
FR8777
10:15
Scheduled
Gothenburg (GOT)
Ryanair
FR965
10:20
Scheduled
Knock (NOC)
Ryanair
FR804
10:20
Scheduled
Dublin (DUB)
Ryanair
FR255
10:35
Scheduled
Oslo (OSL)
Ryanair
RK1395
10:40
Scheduled
Memmingen (FMM)
Ryanair
FR2405
10:55
Scheduled
Bologna (BLQ)
Ryanair
FR195
11:00
Scheduled
Karlsruhe Baden Baden (FKB)
Ryanair
FR8093
11:00
Scheduled
Eindhoven (EIN)
Ryanair
FR2533
11:05
Scheduled
Copenhagen (CPH)
Ryanair
FR2619
11:10
Scheduled
Venice (VCE)
Ryanair
FR795
11:10
Scheduled
Shanghai (PVG)
China Cargo Airlines
CK213
11:10
Scheduled
Billund (BLL)
Ryanair
FR5165
11:15
Scheduled
Budapest (BUD)
Ryanair
FR1659
11:20
Scheduled
Belfast (BFS)
easyJet
U239
11:25
Scheduled
Katowice (KTW)
Lauda Europe
FR2472
11:30
Scheduled
Bergamo (BGY)
Ryanair
FR2697
11:35
Scheduled
Dortmund (DTM)
Ryanair
FR1789
11:35
Scheduled
Prague (PRG)
Ryanair
FR1014
11:35
Scheduled
Wasaw Modlin (WMI)
Ryanair
FR1022
11:40
Scheduled
Klagenfurt (KLU)
Ryanair
FR1269
11:45
Scheduled
Istanbul (SAW)
AnadoluJet
TK7798
11:45
Delayed
Izmir (ADB)
Pegasus
PC1527
11:50
Scheduled
Rome (CIA)
Ryanair
FR2673
11:50
Scheduled
Istanbul (SAW)
Pegasus
PC1163 expand_more(1)
11:50
Delayed
Istanbul (SAW)
Flynas
XY5163
11:50
Delayed
Brno (BRQ)
Ryanair
FR2478
11:55
Scheduled
Dubai (DXB)
Emirates
EK65
12:10
Scheduled
Riga (RIX)
Ryanair
FR1136
12:15
Scheduled
No flight arrivals were found at London Stansted Airport.

Flight Arrivals at London Stansted Airport
Stansted Express trains, coaches, buses, and taxis are among the ground transportation options at London Stansted Airport. With trains departing every 15 minutes, the Stansted Express is the quickest way to get into central London.
Coaches are also available, which take a little longer but usually are less expensive than taking the railway. Private buses are often the cheapest choice, but they might be slow. Taxis are frequently available at the airport but can be pricey.
Tips to consider upon arrival at London Stansted Airport:
After landing, head towards the terminal exit to find the Stansted Airport Railway Station.
The station is located directly underneath the main terminal building.
Take the escalator or lift down to the station concourse and follow the signs for your train platform.
If you're heading into Central London, take the Stansted Express train service, which runs every 15 minutes and arrives on London Liverpool Street in approximately 45 minutes.
Rental Car Services at London Stansted Airport
Whether for business or pleasure, renting a car is a breeze when you fly into London Stansted Airport. Shuttle buses to the Car Rental Village depart every ten minutes and are free of charge. The London Stansted Airport Car Rental Village is located on Coopers End Road and is open daily.
With so many providers, you're sure to discover the ideal vehicle for your needs. If you want to ride in style, Hertz has a selection of high-end cars. Try Avis or Budget for a more affordable option.
Alamo has an assortment of vans and SUVs if you need a larger car to accommodate your group or bags. Whatever type of rental automobile you require, there is almost certainly a firm at London Stansted Airport that can provide it.
Please review our rental car selections to see which is ideal for you.
Taxi Services at London Stansted Airport
The collaboration between London Stansted Airport and minicabit allows all travelers to order taxis quickly and easily.
Minicabit, a real-time taxi quote comparison service, collaborates with a licensed taxi operator to provide prices to passengers near London Stansted Airport. Use the search box to compare airfares and make a risk-free online reservation.
Minicabit lets you quickly and easily compare taxi fares at London Stansted Airport and book one online, whether you need transport to the airport or a ride home. See more information about taxis at London Stansted Airport.
It is simple to make an online reservation at https://www.stanstedairport.com/getting-to-and-from/by-taxi.
Train Services at London Stansted Airport
The quickest and most convenient choice is taking the Stansted Express train between London Stansted Airport and the city. Services run every 15 minutes, and one-way tickets cost as little as £9.45.
The train station at Stansted Airport is located beneath the main concourse in the terminal building. This service runs at regular 15-minute intervals, with an average trip length of 45 to 53 minutes. More information about train services at London Stansted Airport.
Bus Services at London Stansted Airport
National Express provides nonstop service to London Stansted Airport from 38 pick-up locations. One-way advance purchase fares start at £5, so reserve your ticket immediately.
You can reserve a seat on one of the two daily bus or coach lines that run to and from London. Many services stop, including London Paddington, Waterloo, Victoria, Liverpool Street, and Kings Cross/St. Pancras, provide access to the London Underground or one of the city's railway stations. More information about buses to and from London Stansted Airport.
Hotel Shuttle Services at London Stansted Airport
Take advantage of the hotel shuttle service while staying near London Stansted Airport. It's an excellent alternative for anyone traveling or departing from the airport, making it easy to get to your hotel. The shuttle service runs every 30 minutes and is completely free.
Check with your hotel's front desk to ensure this amenity is available. For further information, please see our hotel page.
Rideshare Services at London Stansted Airport
Uber and Lyft, as well as regular passengers and taxis, can drop you off at the terminal's departure level. When you get to the airport, notify your driver of the airline you'll be flying with and, if feasible, the terminal from where you'll depart.
Parking Services at London Stansted Airport
Surface lots and garages are available at London Stansted Airport. The Short Stay lot, which is connected to the terminal, provides parking for up to two weeks.
Because the airport shuttle stops there, the Long Stay parking lot is a suitable alternative for longer trips. Express Pick-Up is a service that will come to your car and transport you directly to your hotel, saving you the inconvenience of parking.
Please check our parking page for more information on parking at Stansted Airport.
Other Services at London Stansted Airport
Stansted has one passenger terminal, a single block on a single floor, and is easy to navigate. Arrivals, a few shops, and cafes left luggage and bag-wrap service, ATMs, currency exchange kiosks, and toilets all located in the northeast end. Check-in is done at the center area.
Disabled Passengers at London Stansted Airport
The most excellent method to avoid trip stress is to prepare, research, and notify; this will provide peace of mind. When booking a flight/holiday with your airline/tour operator, include as much detail as possible about the service you will require at the airport.
Consider how long your flight will be and what you will require to be comfortable. Investigate the airline and its facilities, seating plans, and services.
Wi-Fi at London Stansted Airport
Connect to the "Free WIFI" network to use free Wi-Fi to access the internet. The complimentary service is accessible in the terminal and our lounges at London Stansted Airport.
Baggage Claim at London Stansted Airport
Baggage claims at London Stansted Airport are located on the lower level of the main terminal building. There are numerous trolleys available to assist you with your stuff. The carousels are in a spacious open space with plenty of seats. If you require assistance, there is also a lost & found desk.
Information Desk at London Stansted Airport
The airport information desk is in international arrivals. It is open around the clock and may assist with general airport questions, flight information, and paging calls. The information desk also serves as a tourist information center, providing information on nearby lodging, onward transportation links, and attractions. There is an airline information desk in the departures lounge after security.
Smoking at London Stansted Airport
We have many authorized smoking locations outside the terminal building's landside sections if you want to smoke. E-cigarettes are not permitted in the airport.
Lost and Found Section at London Stansted Airport
Please get in touch with your airline if you have any questions about things left on an airplane. Excess Baggage provides a lost property service for all goods discovered within the passenger terminal at London Stansted Airport.
Restrooms at London Stansted Airport
Throughout the airport, there are numerous accessible bathrooms. Please remember that you need a National Key Scheme (NKS) RADAR key to use the accessible restrooms. Stansted also offers two Changing Places toilets: one in the Arrivals area and one after Security in the Departure Lounge.
Nursing Mothers Station at London Stansted Airport
You can utilize the Nursing Mothers Station if you are a nursing mother traveling through London Stansted Airport. Nursing women can breastfeed or express milk in a hygienic and friendly setting at the station.
It has private cubicles, a sink, and a changing area. If you need to warm up your expressed milk, there is also a microwave oven. The Nursing Mothers Station is open seven days a week, 24 hours a day. Show your boarding card at the entry to use the facility.
ATMs at London Stansted Airport
Various banks supply ATMs at London Stansted Airport. In addition, there are various foreign exchange kiosks positioned throughout the airport where you can purchase or sell foreign currency.
Currency Exchange at London Stansted Airport
You have a few options if you exchange cash while at Stansted Airport. The kiosk is open seven days a week from 5:00 a.m. to 8:00 p.m. The Travelex office is open seven days a week from 6:00 a.m. to 10:00 p.m. The ATM is available 24 hours a day. All three options provide competitive rates and easy access to foreign cash.
Food and Beverages at London Stansted Airport
There are several fast-food restaurants and more upscale restaurants in the terminal building. Whether you want a quick snack or a sit-down dinner, London Stansted Airport has many options. There are fast food restaurants such as Burger King and McDonald's. You may indulge in a meal at one of the sit-down eateries. There are also several bars and cafés where you can have a drink.
Shopping at London Stansted Airport
Shopping at London Stansted Airport is a once-in-a-lifetime opportunity. There are numerous shops to pick from, and the prices are reasonable. The personnel is amiable and helpful, which adds to the overall experience. Anyone looking for a great deal on their next vacation should shop at London Stansted Airport.
Pet Relief at London Stansted Airport
The UK Department for Environment, Food and Rural Affairs (DEFRA) offer the Pet Travel Scheme, which permits cats and dogs to travel between certain nations and UK airports.
If you are going away for a lengthy time and want to bring your pet, London Stansted Airport has a list of a few companies that can assist you.
• AIA Pets Phone Number: 0203 432 7828
• Airborne Pets Phone Number: 0845 1801 851
Ticketing Services at London Stansted Airport
London Stansted Airport provides various ticketing services to make your travel experience as smooth as possible. Their online check-in and self-service kiosks are available 36 hours before departure, allowing you to skip airport lines. If you want assistance, their pleasant employees at any airport customer care counter will gladly assist you.
Was your flight delayed or cancelled?
You may be eligible to receive up to 600 EUR compensation per person in your party..
Claim Now!
Beat the Queues
Don't stand sweating for 45 mins waiting for Security. Get a fast track and get through in 5 mins or less.
Book now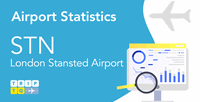 London Stansted Airport has continued its impressive recovery from the impact of the pandemic, with July 2023 witnessing a notable surge in passenger numbers. According to available records, the airport experienced a 1.61% increase in passengers compared to the pre-pandemic year of July 2019...