London Stansted Airport Departures (STN)
Not all flights may be showing. If not available use search above to find your flight by airline, airport or flight number.
Destination
Airline
Flight no.
Scheduled
Est./Actual
Status
Palma de Mallorca (PMI)
Jet2
LS1529
05:55
Scheduled
Heraklion (HER)
Jet2
LS1577
05:55
Scheduled
Ouarzazate (OZZ)
Ryanair
RK8528
05:55
Scheduled
Chania (CHQ)
Jet2
LS1429
05:55
Scheduled
Hamburg (HAM)
Ryanair
FR1518
05:55
Scheduled
Krakow (KRK)
Ryanair
FR2362
06:00
Scheduled
Palma de Mallorca (PMI)
Titan Airways
BY5212
06:00
Scheduled
Helsinki (HEL)
Ryanair
FR2344
06:05
Scheduled
Marseille (MRS)
Ryanair
FR6541
06:05
Scheduled
Dortmund (DTM)
Ryanair
FR1788
06:10
Scheduled
Biarritz (BIQ)
Lauda Europe
FR372
06:10
Scheduled
Lanzarote (ACE)
Jet2
LS1401
06:15
Scheduled
Lamezia Terme (SUF)
Ryanair
FR2728
06:15
Scheduled
Barcelona (BCN)
Ryanair
RK8214
06:20
Scheduled
Faro (FAO)
Jet2
LS1439
06:20
Scheduled
Tenerife (TFS)
TUI
BY5274
06:20
Scheduled
Dublin (DUB)
Ryanair
FR205
06:20
Scheduled
Perpignan (PGF)
Ryanair
FR934
06:25
Scheduled
Bologna (BLQ)
Ryanair
FR194
06:30
Scheduled
Bremen (BRE)
Ryanair
FR3675
06:30
Scheduled
Girona (GRO)
Ryanair
FR9798
06:30
Scheduled
Ibiza (IBZ)
Jet2
LS1473
06:30
Scheduled
Brindisi (BDS)
Ryanair
RK2475
06:35
Scheduled
Naples (NAP)
Ryanair
FR1474
06:35
Scheduled
Malaga (AGP)
Ryanair
FR8162
06:35
Scheduled
Karlsruhe/Baden-Baden (FKB)
Ryanair
FR9772
06:35
Scheduled
Bucharest (OTP)
Ryanair
FR1005
06:40
Scheduled
Porto (OPO)
Ryanair
FR1261
06:45
Scheduled
Lanzarote (ACE)
Ryanair
FR250
06:45
Scheduled
Copenhagen (CPH)
Ryanair
FR7382
06:50
Scheduled
Budapest (BUD)
Ryanair
FR1658
06:50
Scheduled
Vigo (VGO)
Ryanair
FR6942
06:55
Scheduled
Pisa (PSA)
Ryanair
FR584
06:55
Scheduled
Chania (CHQ)
Ryanair
FR7608
07:00
Scheduled
Nimes (FNI)
Ryanair
RK8816
07:00
Scheduled
Milan (BGY)
Ryanair
FR2696
07:00
Scheduled
Knock (NOC)
Ryanair
FR805
07:05
Scheduled
Cagliari (CAG)
Ryanair
FR2687
07:05
Scheduled
Rome (CIA)
Ryanair
FR2455
07:10
Scheduled
Vienna (VIE)
Lauda Europe
FR730
07:10
Scheduled
Gothenburg (GOT)
Ryanair
FR966
07:15
Scheduled
Gran Canaria (LPA)
Ryanair
FR2842
07:15
Scheduled
Milan (MXP)
Ryanair
FR2757
07:15
Scheduled
Tenerife (TFS)
Ryanair
FR578
07:20
Scheduled
Billund (BLL)
Ryanair
FR5164
07:25
Scheduled
Berlin (BER)
Ryanair
FR145
07:30
Scheduled
Venice (VCE)
Ryanair
FR792
07:35
Scheduled
Kos (KGS)
Ryanair
FR6291
07:35
Scheduled
Sofia (SOF)
Ryanair
FR1730
07:35
Scheduled
No flight departures were found at London Stansted Airport.

Flight Departures at London Stansted Airport
You can reach London Stansted Airport by Stansted Express trains, coaches, buses, and taxis. With trains departing every 15 minutes, the Stansted Express is the quickest way to reach the airport.
There are also coaches, which take somewhat longer but are typically cheaper than trains. Privately operated buses are often the most affordable alternative, but they need to be faster. Taxis are plenty and can bring you to the airport; however, they can be pricey.
Rental Car Services at London Stansted Airport
Follow the signs from the highway to the airport and seek signs to Coopers End Road and Endeavour House to return your vehicle. The Car Rental Village will be on the left, and a free shuttle bus will take you to Departures from there.
Please review our car rental options to choose which is best for you.
Taxi Services at London Stansted Airport
The cooperation between London Stansted Airport and minicabit enables travelers to order taxis quickly and easily.
Minicabit, a tool for comparing taxi fares in real time, collaborates with a registered taxi company that provides prices for passengers near London Stansted Airport. Complete the search box to compare airfares and make a reservation online without risk.
Minicabit enables you to rapidly compare taxi fares at London Stansted Airport and book one online, whether you need a ride to or from the airport. More information about taxis at London Stansted Airport.
It is simple to make an online reservation at https://www.stanstedairport.com/getting-to-and-from/by-taxi.
Train Services at London Stansted Airport
Between London Stansted Airport and the city, the Stansted Express train is the quickest and most convenient choice. There are departures every 15 minutes, and one-way tickets are available for as low as £9.45. More information about train services at London Stansted Airport.
The train station at Stansted Airport is situated beneath the terminal's main concourse. This service operates at 15-minute intervals; the typical trip duration is between 45 and 53 minutes.
Bus Services at London Stansted Airport
National Express provides nonstop service to London Stansted Airport from 38 pick-up locations. Advance purchase one-way rates begin at £5, so purchase your ticket as soon as possible.
You can reserve a seat on one of the two daily bus and coach lines traveling to and from London. From various service stops, including London Paddington, Waterloo, Victoria, Liverpool Street, and Kings Cross/St. Pancras, you may access the London Underground or one of the city's train stations. Further information about buses to and from London Stansted Airport.
Hotel Shuttle Services at London Stansted Airport
Take advantage of the shuttle service if you are staying at a hotel near London Stansted Airport. It is an excellent alternative for those coming or departing from the airport, making the journey to the hotel less stressful. The shuttle service is complimentary and operates every 30 minutes.
Confirm with your hotel's front desk that this service is available. You can also view our hotel page for additional information.
Rideshare Services at London Stansted Airport
Ridesharing services such as Uber and Lyft and regular passengers and taxis can drop you off at the airport's departure level.
Parking Services at London Stansted Airport
At London Stansted Airport, parking options range from surface lots to garages. The Short Stay lot provides parking for up to two weeks.
Because the airport shuttle stops there, the Long Stay parking lot is a fantastic choice for extended trips. Express Pick-Up is a service that will pick you up from your vehicle and transfer you directly to your hotel, eliminating the need for parking.
For information regarding parking at Stansted Airport, please visit our parking page.
Other Services at London Stansted Airport
There is only one passenger terminal at Stansted, a single building on a single level that is simple to navigate. The Landside, the northeast end, contains arrivals, a handful of shops and cafes, a left luggage and bag-wrapping facility, ATMs and currency exchange kiosks, and restrooms. The central location is the check-in desk.
Disabled Passengers at London Stansted Airport
The most excellent method to travel without stress is to plan, conduct a study, and communicate; this will give you peace of mind. The airport offers as much information as possible regarding the service you will need at the airport.
Consider the duration of your flight and what you will need for comfort. Investigate the airline's amenities, seating plans, and available services.
Wi-Fi at London Stansted Airport
Connect to the "Free WIFI" network to utilize free Wi-Fi to access the internet. The complimentary service is accessible in the terminal and our lounges at London Stansted Airport.
Baggage Claim at London Stansted Airport
Baggage claims at London Stansted Airport is located on the lower level of the main terminal building. There is an abundance of luggage carts available for your use. The carousels are set in a vast open space with plenty of seats. Additionally, there is a lost and found desk if you require assistance.
Information Desk at London Stansted Airport
The airport information desk is in international arrivals. It aids with general airport questions, flight information, and pager calls 24 hours a day. The information desk also operates as a tourist information center offering information on local lodging, onward transport links, and attractions. After security, there is an airline information desk in the departures lounge.
Smoking at London Stansted Airport
If you wish to smoke, we have several designated areas outside the terminal building's landside areas. E-cigarette use is prohibited within the airport.
Lost and Found Section at London Stansted Airport
Don't hesitate to contact your airline for additional information regarding things left on an airplane. Excess Baggage provides the lost property service for all goods discovered within the passenger terminal at London Stansted Airport.
Restrooms at London Stansted Airport
Multiple accessible restrooms are located at Stansted Airport. Accessing accessible toilets will require a National Key Scheme (NKS) RADAR key. Additionally, Stansted has two Changing Places restrooms, one in the Arrivals section and the other after Security in the Departure Lounge.
Nursing Mothers Station at London Stansted Airport
The Nursing Mothers Station is available if you are a nursing mother traveling through London Stansted Airport. The station provides nursing women with a clean and comfortable place to nurse or express milk.
There are private stalls, a sink, and a changing space. There is also a microwave oven if you need to warm up your expressed milk. The Nursing Mothers Station is open around-the-clock, seven days per week. Present your boarding card at the entry to get access.
ATMs at London Stansted Airport
ATMs at London Stansted Airport are provided by several financial institutions. Numerous foreign exchange booths are also positioned throughout the airport where foreign currency can be purchased or sold.
Currency Exchange at London Stansted Airport
You have several options if you need to convert currency at Stansted Airport. The kiosk is open seven days a week from 5:00 am to 8:00 pm. The Travelex office is open seven days a week from 6:00 am to 10:00 pm. The ATM is accessible around-the-clock. All three options offer competitive rates and convenient access to foreign cash.
Food and Beverages at London Stansted Airport
In the terminal building are several fast-food establishments and upscale restaurants. London Stansted Airport has you covered if you're searching for a quick snack or a sit-down meal.
Available fast-food options include Burger King and McDonald's. You may indulge yourself at one of the table-service restaurants. There are also various bars and cafes where you can grab something to drink.
Shopping at London Stansted Airport
The shopping experience is unique. There are many shops to pick from, and the prices are competitive. The personnel provides help, which makes the whole experience even better. I recommend shopping at London Stansted Airport to anyone trying to save money on their upcoming vacation.
Pet Relief at London Stansted Airport
The UK Department of Environment, Food & Rural Affairs (DEFRA) offers the Pet Travel Scheme, which permits cats and dogs to travel between certain nations and UK airports.
If you are planning a long trip overseas and wish to bring your pet with you, London Stansted Airport has a list of organizations that can assist you.
• AIA Pets Contact Number: 0203 432 7828
• Airborne Pets Contact Number: 0845 1801 851
Ticketing Services at London Stansted Airport
The airport provides various ticketing services to facilitate travel as much as possible. Online check-in and self-service kiosks are accessible 36 hours before departure, allowing you to skip airport lines. If you want assistance, the customer care agents at any airport will gladly assist you.
Was your flight delayed or cancelled?
You may be eligible to receive up to 600 EUR compensation per person in your party..
Claim Now!
Beat the Queues
Don't stand sweating for 45 mins waiting for Security. Get a fast track and get through in 5 mins or less.
Book now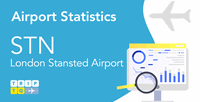 London Stansted Airport has continued its impressive recovery from the impact of the pandemic, with July 2023 witnessing a notable surge in passenger numbers. According to available records, the airport experienced a 1.61% increase in passengers compared to the pre-pandemic year of July 2019...